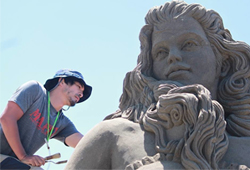 TOSHIHIKO HOSAKA
Apr 1974 Born in Akita,Japan
Mar 1998 Graduated in sculpture,
the Fine Art Department of Tokyo National University of Fine Arts and music.
I started sand sculpting during studying in the University.
Since I graduated from there, I have been making sculpture and
three-dimensional works of various materials for filming, shops and so on.
Based in Miyagi